WELCOME to Tangology 101!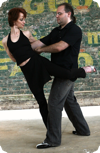 Tangology 101 is dedicated to the study of Argentine Tango dance, music and history. Our Online Video Dance Lessons primarily focus on the social forms of Argentine Tango. You can watch and learn everything from the basic steps to the most advanced concepts of the dance. Our History of Argentine Tango section focuses on the history of the music and its' orchestras.
Our Classes and Workshops area educates you about our weekly Atlanta tango classes as well as our lessons in Macon and Athens, Georgia. It also has information about our workshops in other cities and private dance lessons in Atlanta, Macon and Athens. The Milongas and DJing section fills you in on our Atlanta Tango Community Milongas (Dance Parties) and about my DJing.
Our Argentinian Tango Resources section has information for new dancers, favorite tango videos and information about our 24/7 Tango Radio Station.
Un Abrazo, Clint Rauscher
Argentine Tango Classes

| City | Time | Level | |
| --- | --- | --- | --- |
| Atlanta, GA | Every Monday 8:00pm to 9:30pm | Intermediate Class | more info |
| Atlanta, GA | Every Thursday 8pm to 11pm | Beg | more info |
| Macon, GA | Every FINAL Sunday | All Levels | more info |
Atlanta Milongas

| Name | Time | |
| --- | --- | --- |
| Milonga Plaka | Every 1st and 3rd Sunday (and 4th when there is a 5th Sunday) (7pm to 10pm) | more info |
| Milonga del Corazon | Every 3rd Friday | more info |
| Milonga 57th | Every 2nd Sunday (6:30pm to 10pm) | more info |
Travel & Special Events Schedule

| City | Dates | |
| --- | --- | --- |
| Columbia, SC | Workshop for Columbia Regional Festival (Nov 7th to 9th) | |
| Charlotte, NC | DJing @ Candlelight Tango Festival (Dec 5th-7th) | |
Most Recent Blogs: