WELCOME to Tangology 101!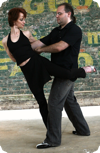 Tangology 101 is dedicated to the study of Argentine Tango dance, music and history. Our Online Video Dance Lessons primarily focus on the social forms of Argentine Tango. You can watch and learn everything from the basic steps to the most advanced concepts of the dance. Our History of Argentine Tango section focuses on the history of the music and its' orchestras.
Our Classes and Workshops area educates you about our weekly Atlanta tango classes as well as our lessons in Macon and Athens, Georgia. It also has information about our workshops in other cities and private dance lessons in Atlanta, Macon and Athens. The Milongas and DJing section fills you in on our Atlanta Tango Community Milongas (Dance Parties) and about my DJing.
Our Argentinian Tango Resources section has information for new dancers, favorite tango videos and information about our 24/7 Tango Radio Station.
Un Abrazo, Clint Rauscher | 404-931-2455
Argentine Tango Classes

| City | Time | Level | |
| --- | --- | --- | --- |
| Atlanta, GA | Every Monday 8:00pm to 9:30pm | Intermediate Class | more info |
| Atlanta, GA | Every Thursday 8pm to 11pm | Beg & Adv | more info |
| Macon, GA | Every FINAL Sunday | All Levels | more info |
Atlanta Milongas

| Name | Time | |
| --- | --- | --- |
| Milonga Plaka | Every Sunday Except the Final Sunday (6pm to 10pm) | more info |
| Milonga del Corazon | Every 3rd Friday | more info |
Travel & Special Events Schedule

| City | Dates | |
| --- | --- | --- |
| Charleston, SC | Workshop and DJing Monthly Milonga (Oct 12th) | |
| Atlanta, GA | Special Worshop: Pulpeadas (Oct 19th) | |
| Columbia, SC | Workshop for Columbia Regional Festival (Nov 7th to 9th) | |
| Charlotte, NC | DJing @ Candlelight Tango Festival (Dec 5th-7th) | |
Most Recent Blogs:
This week's tanda is low key tanda by Rodolfo Biagi with Alberto Amor singing. We usually think of Biagi as being more rhythmic and staccato, but with Alberto Amor his signature sound is more calm. The rhythm is still there, but more subdued. This is a great tanda for the end of the evening. "Seamos Amigos" is another great song that could go in this tanda.
Loading the player...

This week's tanda is spirited set by Juan d'Arienzo with Alberto Echagüe singing. "El Rey del compás" (The Rhythm King), as D'Arienzo was known, worked with many great singers. But, to me, Alberto Echagúe's canyengue style of singing was a perfect match for the rhythmic nature of D'Arienzo's orchestra. They recorded 27 records in the 1930's and "Trago Amargo," was the last before Echagüe left D'Arienzo's orchestra. He did return to D'Arienzo twice more, from 1944 to 1957 and 1968 to 1975.
Translation of Mandria: http://poesiadegotan.com/2009/09/03/mandria-1926
This week's tanda is a classic set by Anibal Troilo with Francisco Fiorentino singing. You don't get much more tango than this. Troilo and Fiorentino created some of the greatest tango music of all time. In these songs, Troilo is at the top of his game with some of the best musicians around, including Orlando Goñi on piano and Astor Piazzolla, along with Troilo, on bandoneon.
Translation of Gricel: http://poesiadegotan.com/2012/12/17/gricel-1937/
Translation of Barrio de Tango: http://letrasdetango.wordpress.com/2011/12/30/barrio-de-tango/