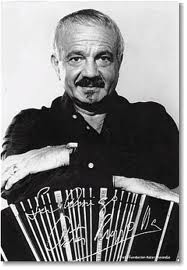 This weeks alternative tango is a collection of songs by Astor Piazzolla. What amazes me about Piazzolla is how he can put so many emotions into the same piece of music.
This version of "Libertango" is a remix by Hi Perspective and is nice because it has a bit slower and has more of a beat than other versions. The only negative to it is that it has a very fast fade out at the end of the song.

"Cite Tango" is so light and playful and then it becomes soft and romantic. It feels like being at an amusement park. You are having fun all day, but then it gets late and you start to get tired. You realize that the fun is over and that you must go home.
This version of "Tanguedia III" is from Tango Zero Hour, one of my favorite Piazzolla albums. This song is very aggressive, almost violent. You have to be bold and precise dancing to it. I also like to use lots of changes of directions (alterations). I have edited the song to remove the 22 second intro.
If you wanted to keep this tanda under 10 minutes, you could use Gotan Projects edit of "Cite Tango" which is 3.56 and then start Tanguedia III at the 1.34 mark.
More about: